What's New ?

Enhancing Everyday Life Brief Ideas
Tea Set Stand with Plates Set
Get the royal treatment with an enchanting afternoon tea at home.
Material: New Bone
Size(approx.): 20cm diameter
Get the Afternoon Tea Set Collection!
Wall Lamp
Wondering how you can bring a bit of magic back into your life? The unicorn-shaped wall lamp is not only adorable, it offers the perfect level of illumination for any room.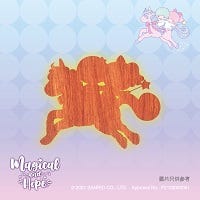 Motive Sensor Design: The wall lamp is equipped with a sensor, and will activate once hand is detected in vicinity. Size(approx.)︰26(W) x 20(H)cm *AA batteries 3, which can last for about 2 hours
Happiness starts at home with magical selection!
Plush with BYOB
Earth is magical! Do your part to help save our world by using less plastics and disposables, while switching to eco-friendly products.
The BYOB can be packed into the Little Twin Stars Plush
Size (approx.):
BYOB: 38(W) x 38(H)cm
Plush -12(W) x 12(H)cm
Bring magic back into our world!